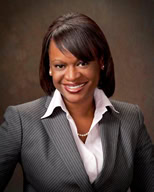 29 Nov

12/4 General Meeting: St. Pete Deputy Mayor Kanika Tomalin

BPW welcomes Dr. Kanika Tomalin, Deputy Mayor for the City of St. Petersburg, as the featured speaker for our general membership meeting on Dec. 4. Dr. Tomalin, a fifth-generation native of St. Petersburg, will reflect on her past year in public service.

Prior to her appointment as Deputy Mayor, Dr. Tomalin served as the Regional Vice President of External Affairs for the five-county Bayfront Health Network and Director of Strategy for Health Management Associates' Florida Group. For more than 13 years, in various leadership roles at Bayfront Medical Center, she guided the organization's strategic planning; government relations; marketing; media; community affairs; external and internal communications and patient experience. She has also worked at the St. Petersburg Times, the Palm Beach Post, WTXL-TV in Tallahassee, WAVE-TV in Louisville, KY and WRXB radio in St. Petersburg.

Dr. Tomalin received a Journalism degree from Florida A&M University, an MBA from the University of Miami and a Doctorate in Law and Policy from Northeastern University in Boston. She has received numerous honors and appointments, including being named: YWCA of Tampa Bay's Woman of Distinction; one of Florida Business Observer's 40 Under 40; and one of Florida's Most Powerful and Influential Women by the National Diversity Council.