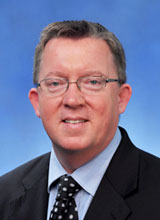 05 Nov

Charlie Justice Shares His Annual County Commission Update With BPW

Make your reservation now as BPW welcomes back the Chairman of the Pinellas County Commission for what has become an annual update to the members and guests of BPW. He'll share the commission's successes and challenges and how we can participate in countywide efforts to improve our community.

Approachable. Compassionate. Home town boy. All words used to describe Charlie Justice. One only has to spend five minutes with Charlie to know that he is not your usual politician.

Husband to Kathleen for twenty years and proud father of two young daughters Erin and Allison, Charlie grew up the youngest of five children in the heart of Pinellas. As a student at Boca Ciega High, Charlie excelled in academics, but really thrived at putting smiles on his classmates' faces. To this day, his colleagues and friends admire his optimism and his ability to bring out the best in any person or situation.

After high school, Charlie attended St. Petersburg College, and the University of South Florida. It was important to him to stay close to his family, and build a life in his beloved hometown. During his time in college, he saw Pinellas County grow at an exponential rate. St. Petersburg and the bay area was becoming a metropolis in Florida, and along with that came typical growing pains. Roads were becoming congested, beaches overcrowded, and crime was on the rise. He decided that it was time to get involved and give back to the community that had given him so much. He became active in local politics, eventually becoming the legislative aide to Representative Lars Hafner. His admiration for our area grew, and so did his calling to public service. 

Five years later

, Charlie earned the opportunity to represent us as a State Representative and later as a State Senator.

Tallahassee is a far different place from Tampa Bay. But Charlie relied on the good people of his district that he has come to know and love. He has succeeded in strengthening rights for our military, bringing home millions in beach re-nourishment funds, standing strong for our natural resources and protecting our coastline from near shore oil drilling and mandating stronger consumer protections for the safety of our families. His constituents demanded more attention and money for our schools, and Charlie delivered. To this day he remains a tireless advocate for education and teachers. His district was concerned about every vote being counted and Charlie delivered again, strongly supporting the switch to paper ballots. He continues to stand up for fair and ethical elections, working to rein in frivolous campaign spending by special interests and raising voter confidence by ensuring that everyone has the right and ability to vote.

Charlie credits his open door policy and community involvement for his success. He is constantly in the community, talking to nurses, teachers and others on the front lines who can offer real solutions to state wide problems. It is because of them that Charlie advocates so effectively for our most vulnerable. He has called for stricter regulations on nursing homes and harsher penalties for elder and child abuse. He supports measures to make our foster care system safer and programs that get homeless off the street. He has brought home funds for community organizations such as PARC, Gulf Coast Family Services, Hospice of the Florida Suncoast, and Vincent House, just to name a few.

Charlie has continued that same philosophy on the County Commission. He is working with many community partners addressing the poverty issues in Lealman, Midtown and throughout Pinellas. He worked to pass ordinances providing relief for wage theft victims, providing assistance to human trafficking victims, and expanded Pinellas' human rights ordinance.

Charlie's leadership was recognized by his peers when they selected him to serve as Chairman of the Pinellas Commission. He also has served  as Chair of the Tourist Development Council, the Pinellas Economic Development Council, and in leadership positions of the Tampa Bay Estuary Program, the Area Agency on Aging of Pasco- Pinellas Board, the Metropolitan Planning Organization and the Pinellas Historical Preservation Board.

Legislating aside, Charlie's best attribute is his compassion for the working families who are the heart and soul of his community. He empathizes with those who, like him, worked to make their own way and provide for their families. He has an uncanny ability to identify with almost anyone he comes across, and usually ends the conversation by sharing a laugh and a smile. It is this capacity to connect and deliver that makes Charlie an effective leader, and a role model for others looking to serve their community.