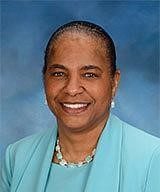 19 Oct

November 1: Veteran Reintegration Into the Civilian Sector

In recognition of Veterans Day (November 11), Shelina Frey, USAA Military Affairs Representative, will address the challenges faced by female veterans upon separating from the military and entering the civilian sector.

Shelina joined the USAA Military Affairs Team in February 2018 after retiring from the U.S. Air Force as a Command Chief Master Sergeant with 34 years of service. USAA's Military Affairs team is composed of retired officers and senior noncommissioned officers who dedicate themselves as advocates for those who are currently serving in the military, all those who have honorably served in the past and their families. The team of professionals is responsible for creating and sustaining relationships between USAA, its strategic partners, military leaders and military-related organizations so that USAA can engage, serve and advocate for the military community.

Shelina's last position was as principal advisor to the commander on matters of health, welfare and morale, development, and effective utilization of 38,000 active duty and 71,000 Air Force Reserve Command/Air National Guard enlisted personnel assigned to the command. Shelina served in numerous senior enlisted positions: Special Assistant to the Chief Master Sergeant of the Air Force; Non-Commissioned Officer in Charge, First Term Airman Center; Commandant, Airman Leadership School; First Sergeant duties; Command Chief Master Sergeant at the Wing, Air Expeditionary Wing and Air Forces Central Command in Southwest Asia and 4-Star Major Command levels.

Chief Frey enlisted in the Louisiana Air National Guard in September 1984. She entered active duty in May 1987. Her awards and decorations include the Legion of Merit, Air Force Bronze Star Medal, Air Force Meritorious Service Medal, Joint Service Commendation Medal, Air Force Commendation Medal, Air Force Achievement Medal, Air Force Organizational Excellence Award, and an Air Force Expeditionary Service Ribbon with gold combat border.

Shelina successfully completed numerous military schools. She received an Associate's Degree in Information Systems, Community College of the Air Force in 1994, an Associate's Degree in Human Resource Management, Community College of the Air Force in 2009, and a Bachelor of Science degree in Quality Systems Management, National Graduate School of Quality Management, Falmouth Maine in 2013. Shelina is a native of New Orleans, Louisiana.