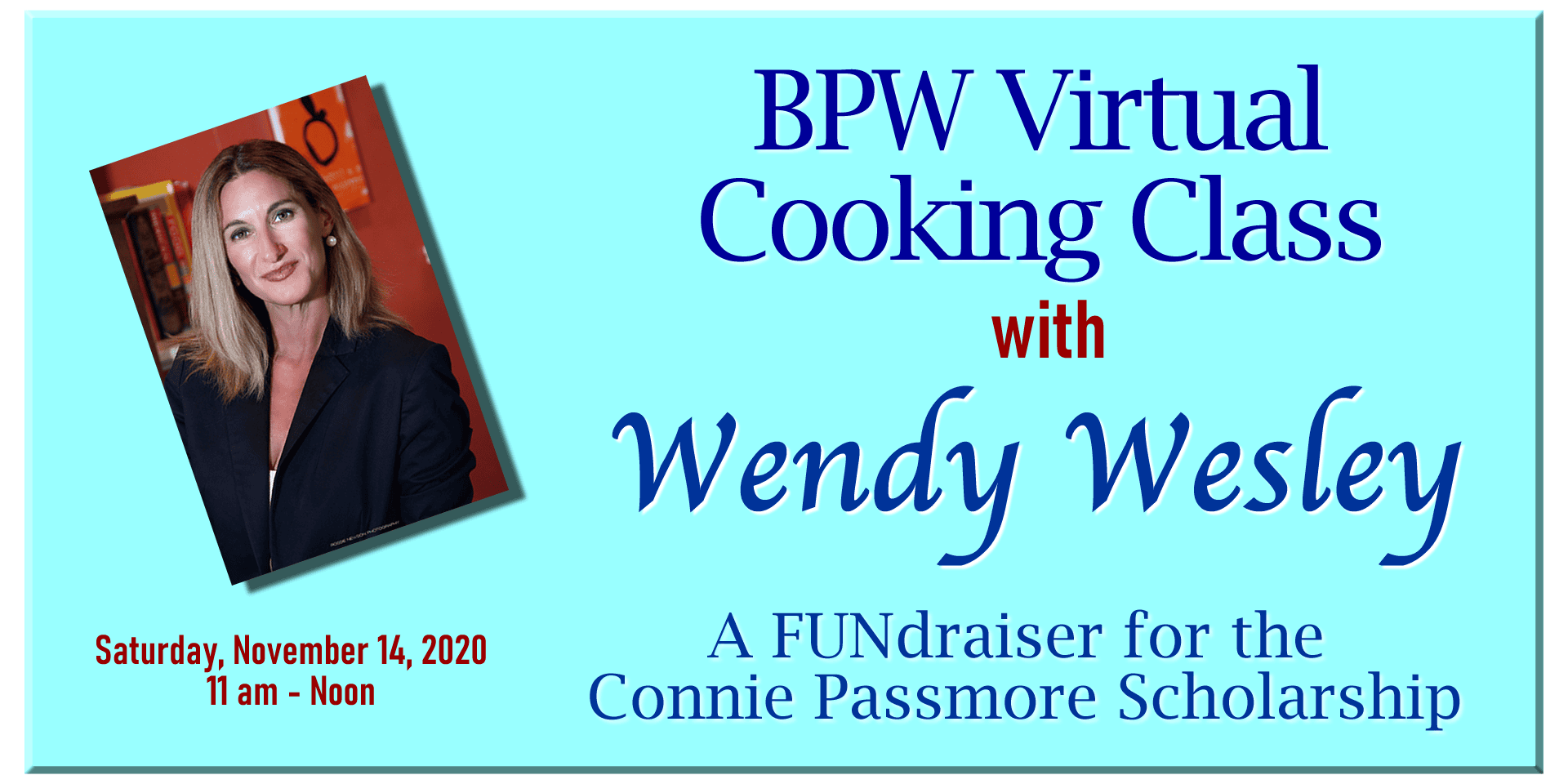 08 Oct

Wendy Wesley returns for a Virtual Cooking Class with BPW

Healthy Eating and Holiday Cheer can be difficult unless you have BPW's not-so-secret weapon, Wendy Wesley. Our favorite Food Policy Advocate and Nutritionist returns to help us raise funds for our Connie Passmore Scholarship with a virtual cooking class on Saturday, November 14th at 11 am. Wendy is hosting this one hour class to help give you some great information for navigating holiday meals and avoid the seasonal pitfalls of overeating and poor nutrition.

With your $35 donation, you'll receive admittance to this fun and informative virtual cooking class as well as your very own BPW apron to help keep you looking sharp through your holiday cooking. Order now to have the opportunity to have yours in time for class on November 14th.
For those that will be joining us, if you'd like to cook along side with Wendy, here's the recipe she'll be preparing:
I'm going to do a Thanksgiving/Christmas vegan appetizer that is rich and savory but still deeply nutritious, heart-healthy and full of fiber. I will do "Walnut and Black Rice-Stuffed Mushroom Caps. This is a modern vegan take on a classic heavy hors d'oeuvre. Vegetarian options for this recipe are available, too, with the addition of feta cheese. Display these beauties on a white platter before the meal and impress your guests with this savory and nutritious starter. 
Ingredients:
1/2 cup black rice (or sub wild or brown rice)
1 cup vegetable stock or water
1 10oz package of baby bella or white button mushrooms
1/2 cup vegan parmesan cheese or feta cheese
1/4 cup walnuts, finely chopped
2 teaspoons jarred garlic or 1 clove fresh garlic, minced
2 tablespoons olive oil or butter
Pinch each salt and pepper

Preheat oven to 350 degrees and rinse the rice in a fine mesh strainer to remove the starch. Bring the stock or water to a boil and add rice. Bring back to a boil, cover, reduce heat and simmer for 20 minutes.

While rice is cooking place walnuts into the oven and toast for 5 minutes. Remove and set aside. Remove mushroom stems and clean caps. Brush caps with olive oil or melted butter and bake for 10 minutes without filling. Chop mushroom stems and walnuts and mix together in a medium sized mixing bowl. Add rice, garlic, salt and pepper and cheese to the mushroom-rice mixture. Place generous spoonfuls of the mixture to the pre-cooked mushroom caps and return to the oven for another 15 minutes. Remove and serve warm or a room temperature.
Wendy Wesley for City Council, District 4
A Fresh Voice for Smart Growth