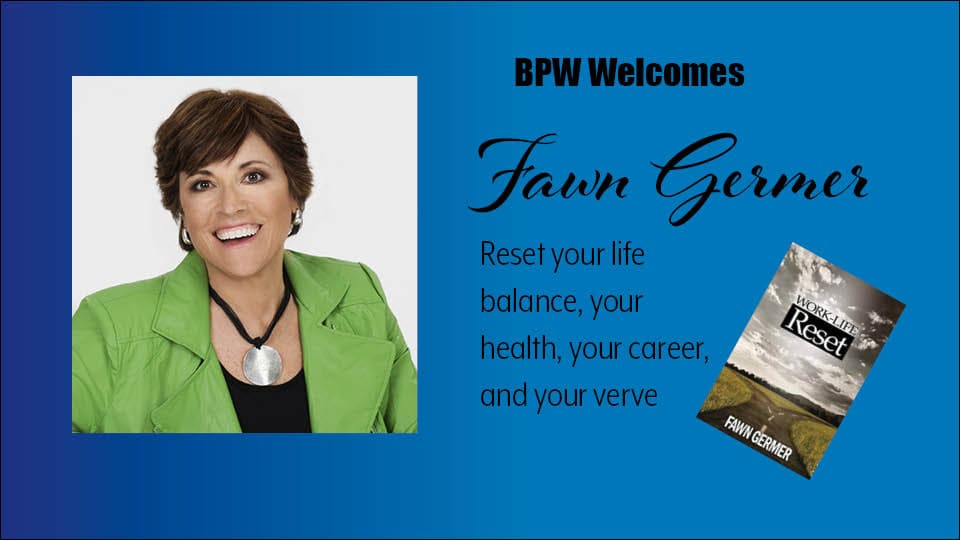 05 Sep

Sept 5: Work-Life Reset: Fawn Germer visits BPW

We're delighted to welcome renowned author, Fawn Germer, to our September Luncheon meeting where she will discuss the principles of her latest book, Work-Life Reset.

If Fawn Germer didn't live by the Japanese proverb, "Fall down seven times, get up eight," she probably would have given up years ago, when a bad boss told her she'd never be more than she was right then – a reporter.

She showed him. Fawn is a four-time Pulitzer-nominee and the best-selling author of nine books, including an Oprah book. She has keynoted all over the world and is one of three women on the prestigious "guru list" of the best global leadership speakers. Her first book was rejected by every major publisher in the U.S., but Fawn persevered until it was a bestseller. She wrote 28 letters to Oprah's producers, but none of them worked. It was the 29th that scored her the windfall of an Oprah book.

Fawn personally interviews the most accomplished leaders and trailblazers of our times for their strategies and stories. Combining their wisdom with her inspiring personal experiences has made her one of the most beloved, uplifting and funny keynote speakers in North America.

Fawn has headlined leadership events for Coca-Cola, Ford Motor Co., Cisco, Walmart, Microsoft, Johnson & Johnson, State Farm, Novartis, Accenture, Deloitte, GlaxoSmithKline, Goldman Sachs and dozens of others on the Fortune 500 list… Meeting planners regularly turn to Fawn because she knows how to reach inside of the people in the audience and pull out their best.

She is currently working on her tenth book, which teaches why some careers go the distance and others sputter out. For the project, she has interviewed more than 200 top CEOs, startup geniuses, organizational experts and professionals.

Fawn is a daring outdoor adventurer and she has inspired hundreds of thousands of people to live fuller, more meaningful lives. She is widely recognized as one of the world's go-to voice on work-life balance, showing that we make choices in life, and those choices have consequences. She recently delivered a TEDx talk on the topic of personal reset for a happier, more balanced approach to life, work and stress.